Diane collects antique books written by people who lived through the American Civil War, and/or who pioneered out West. With a degree in interior design, she enjoys touring historical sites, especially Federal era homes. Her biggest challenge is writing Inspirational Historical Romance. Her biggest distraction is her fascination with historical research. Diane is a member of American Christian Fiction Writers.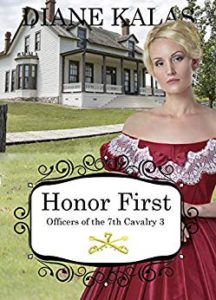 Spring 1876. Fort Abraham Lincoln, Dakota Territory. Eve Sanderson visits her childhood friend, Libbie Custer, before the Seventh Cavalry deploys on a dangerous spring campaign. A recent widow with two children, Eve's attraction to Doctor Westcott is unexpected and alarming.

Jared Westcott, M. D. is Lieutenant Colonel George A. Custer's regimental physician and surgeon. He's distracted by preparations for the upcoming campaign against the Sioux, and unprepared to meet a beautiful widow at such a time. He's also unable to ignore his attraction.

Captivated by Eve's beauty and understanding heart, Jared risks rejection. Eve resists falling in love with Doctor Westcott; after all, she and her children have already lost a loved one. Eve refuses to open her heart to Jared, before a campaign in pursuit of the Plains Indians.

Amid rumors of a great disaster that overtook the 7th Cavalry in the Little Bighorn River Valley, Eve encourages Libbie Custer as the women of Fort Lincoln await official news of the campaign. AMAZON
HONOR BOUND, an Inspirational Historical Romance Set in the West
Officers of the 7th Cavalry 2
August 1875. Fort Abraham Lincoln, Dakota Territory. Lieutenant Joseph Hawthorn's career goals in the United States Army Cavalry, centered upon exceeding Lieutenant Colonel George A. Custer's military achievements. Joe eagerly awaits the 1876 spring campaign with Custer and the famous 7th Cavalry in pursuit of the Sioux and Cheyenne Indians.
August 1875. Bismarck, Dakota Territory. Ivy O'Hanlon and her brother arrive in the Dakota Territory to live with their uncle who owns a tavern. Ivy has a huge problem. Her conscience will not allow her brother to assist Uncle Grady behind the bar. Young Davey O'Hanlon idolizes Custer's officers and wants to join the 7th Cavalry. Ivy fears losing her brother to the Army, but reluctantly decides the cavalry was better for Davey than working in the tavern.
With a ruined engagement behind him, the last thing Joe needs is to meet a beautiful woman with an Irish temperament, who is determined to help her brother pass the entrance exam into the U.S. Military Academy. As an officer and gentleman Joe could not refuse to tutor Davey O'Hanlon.
Ivy finds Lieutenant Joseph Hawthorn more than a golden-haired officer with vivid blue eyes. He is intensely serious, although manages to capture her romantic interest. For Joe, he tries to resist lovely Ivy O'Hanlon's charm. After all, he may not return from the Indian campaign scheduled next spring 1876, as the 7th Cavalry heads to the Little Bighorn River valley. AMAZON
Spring 1874. Rebecca Brewster arrives at Fort Abraham Lincoln to preview life on the far western frontier, before her marriage to an officer in Lieutenant Colonel George Armstrong Custer's famous 7th Cavalry Regiment. Becca is soon disillusioned with her childhood love who is critical of her tomboyish ways. He insists she behave as a lady in the footsteps of Libbie Custer.
Major Randall Steelman, second in command under Custer, finds Becca's fun-loving spirit and open affectionate ways charming. As an officer, however, Rand's strict code of conduct forbids him to act on his interest in a woman when it involves a brother officer. How can he stand by and watch Becca marry an arrogant hothead with unbridled ambition, when he finds Becca more irresistible each day?
Amid increasing tension between the hostile Sioux Indians and the government that Custer represents, Rand walks a tightrope balancing professional duties and a friendship with his commander. Custer's reputation is two-fold: Capable cavalry officer and fearless leader; arrogant and petty tyrant.
With one-year left to serve his country, Rand is determined to retire with a blemish-free record and with his rank intact. Becca must make a life-changing decision, before it's too late and she marries the wrong man. AMAZON
May 1865. Dan Goodman's not fully recovered from his POW captivity and keeping a secret: he thinks he is losing his mind and unfit for marriage, his heart's desire. He plans to travel to Oregon to put Andersonville Prison behind him.
Letty Talbot is a world-weary steamboat songstress, traveling with her brother. When a gambler kills her brother, cheating at cards, Dan introduces Letty to the One who will forgive her past and give her a future. Letty makes an adjustment: right into the path of Dan Goodman's life. She opens a supply depot for emigrants going out West and talks Dan into building the prairie schooners, hoping to keep him from leaving for Oregon.
Meanwhile, famed Civil War nurse, Clara Barton, involves Dan in the first trial in US history for war crimes. Dan testifies against the Commandant of Andersonville and begins to heal.
Irresistibly drawn to each other, Dan and Letty butt heads, but manage to fall in love as they stand at the crossroads of their lives. Letting go of the past, they embrace the future together, the one God planned for them all along.   AMAZON
September 1865. Brice Bruton lost his farm to the Confederate invasion of Pennsylvania, while he served the Union Army. He's angry with God and guilt-ridden, knowing his family had to flee their home before the Gettysburg Battle. Brice travels to Texas, to reunite with his wife and daughter before heading to Oregon, his lifeline of hope while a POW in Andersonville Prison.
Lainie Colbert, spinster, lives with her father and brother on a cattle ranch outside of Waco, Texas. Lainie's been a foster aunt to Emily Bruton for two years and loves the child with her whole heart. When Brice Bruton arrives to take his daughter away, Lainie's desperate to keep the little girl. She prays God will intervene and allow Emily to remain at the ranch.
Grief stricken to learn his wife died, while he served the Union Army, Brice knows he can't travel with a child on his own, so he accepts a job as cowhand at the Colbert spread. Amid ranch life, Lainie and Brice clash over how to raise Emily. Lainie fears that Brice will leave and take Emily to Oregon. What's worse, Lainie's falling in love with Brice and knows he'll never be attracted to her, a plain range woman.
Lainie's love and devotion to Emily turns Brice's opposition to admiration and romantic love. Brice goes up the trail with the Colberts' herd, and decides he wants his own ranch and Lainie for his wife. Would Lainie accept him after all the arguments over Emily? He's afraid to ask. BUY NOW
Pennsylvania. November 1866 –Lucy Garner is a recent widow who just buried her stillborn. Grieving the loss of two people she loved the most in her world, she decides to journey out West and escape her adopted father's stepson whose intentions strike terror into her being. She goes to work for a difficult and unprepared family, headed to Oregon by wagon train.
Missouri. November 1866 – Nat Renshaw's boyish good looks disguise his intense personality.
Before the war, his cheating wife died and he gave up on marriage. He joined the Union Army and became a Confederate POW with enough anger to power a locomotive. These events did not improve his outlook on life. Since the war ended, he's elected sheriff for a river town.
Oregon Trail. March 1867 – Lucy's arresting features and gentle spirit attract Nat Renshaw's unwanted interest as he scouts for Lucy's wagon train. Lucy's distrustful of Nat's determination for romance, but ends up admiring his courage and faith in God. Can Lucy open her heart for another chance at love amid the trials of the Oregon Trail? AMAZON